As the birthplace of public higher education, the University of Georgia has fostered a tradition of academic excellence, intellectual inquiry, and service to others since 1785. For our graduates, Commencement is a beginning, the start of the next chapter in their lives.
Whether you're participating in the graduate Commencement ceremony or supporting your graduate, this information will help you prepare for and navigate graduation day.
Ceremony Start Time:
2:30 p.m.
Graduates and faculty should plan to arrive by 1:00 p.m.
Gates Open:
12:30 p.m.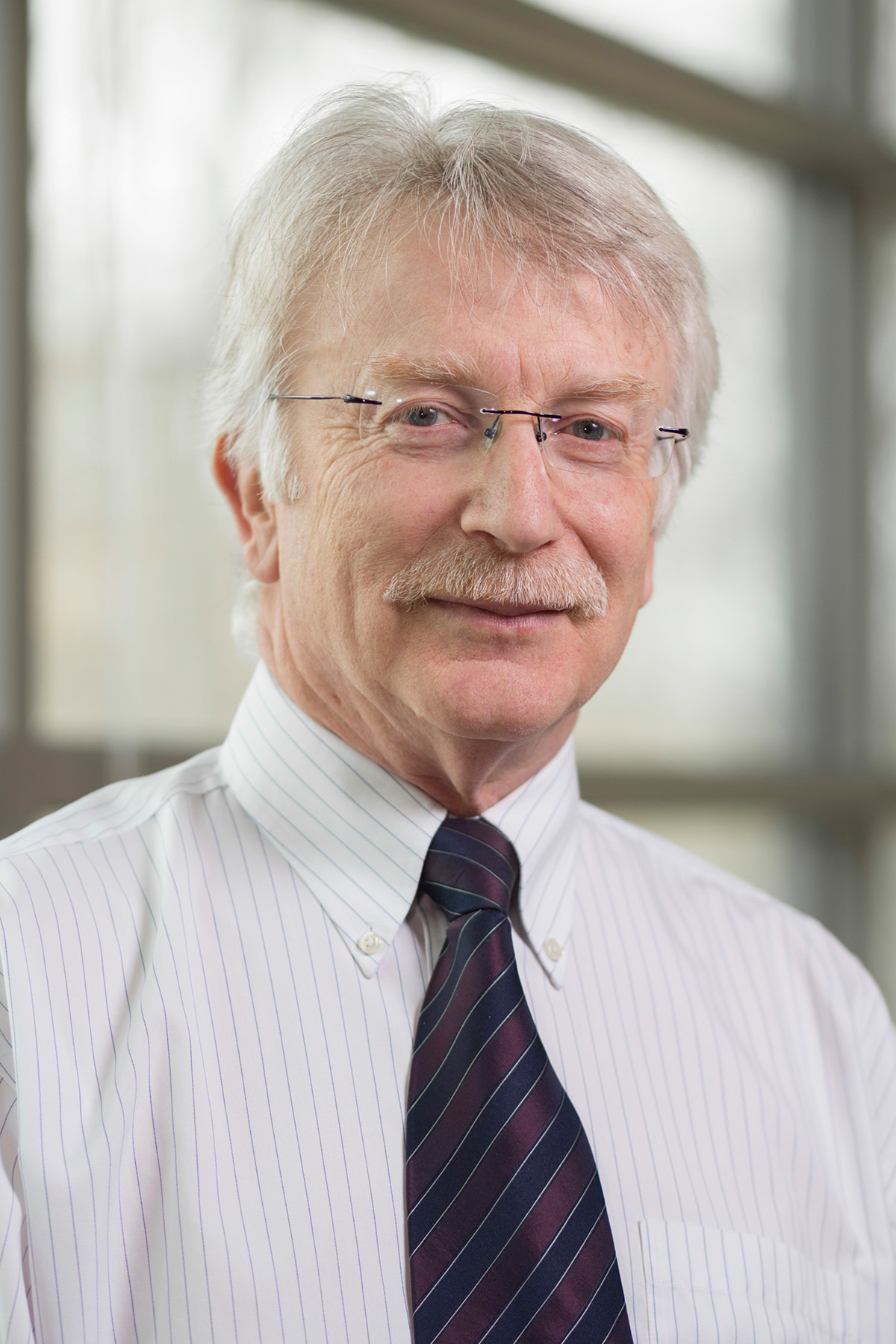 Dr. Alan Darvill is Regents Professor Emeritus of Biochemistry and Molecular Biology and Director Emeritus of the Complex Carbohydrate Research Center (CCRC), which he founded with Peter Albersheim in 1985.
Dr. Darvill was elected Fellow of the American Association for the Advancement of Science in 2010 and received the Lothar Tresp Outstanding Honors Professor Award in 2012. He served on the National Academy of Science committee to review Transforming Glycoscience: A Roadmap to the Future, published in 2012 and coedited the third edition of Essentials of Glycobiology in 2016. From 2007 to 2017, Dr. Darvill was UGA's lead for the Department of Energy-funded BioEnergy Science Center. He helped with the formation of the Center for Molecular Medicine along with the funding and preparing of the construction of its home—a 43,000 square foot building attached to the CCRC.
Dr. Darvill served as chairman of the Carbohydrate Division of the American Chemical Society in 1994-95 and was appointed a member (1993) and chairman (1996) of the Martin Gibbs Medal Committee of the American Society of Plant Physiologists. He served on the editorial boards of Glycobiology and The Plant Journal for Cell and Molecular Biology. Dr. Darvill received the Blue Key Faculty Service Award by the Blue Key Honor Society in 2018. Since 2008, he has served on the Board of Directors of the UGA Research Foundation. In 2021, Dr. Darvill was appointed as Senior Fellow of the Georgia Research Alliance.
Dr. Darvill received his B.S. in plant biology in 1973 from Wolverhampton University (England) and his Ph.D. in plant physiology in 1976 from Aberystwyth University (Wales). His research focuses on the structure and function of the noncellulosic polysaccharides of plant primary cell walls, and he has published over 220 refereed research papers. Furthermore, throughout his thirty continuous years of teaching biology courses and facilitating glycoscience seminars, Dr. Darvill has witnessed and aided in the graduating of many hundreds of undergraduate, Masters, and doctoral students.
Though retired, Dr. Darvill contributes to the CCRC, which has become internationally recognized as a leading research center in complex carbohydrate science under his tenure.
Tickets are not required for the graduate ceremony.
Graduate degree candidates will report to the women's basketball practice gym on the second floor of the Stegeman Coliseum Training Facility by 1:00 p.m. Enter through the doors closest to the Carlton Street Parking Deck.
Hooding professors should also assemble in the women's basketball practice gym by 1:00 p.m.
Graduates will be seated by degree.
Seating charts will be available one week prior to Commencement.
In addition to watching the ceremony in person, the fall Graduate Commencement ceremony will be broadcast live on the Commencement homepage starting at 2:25 p.m.
Graduate Commencement ceremonies are held in May and December. Students completing graduate and doctoral degree requirements during summer must participate in the fall Graduate Commencement ceremony.
For general information regarding graduation requirements, consult the Graduate Bulletin. To ensure that all the requirements for graduation have been met, contact the Graduate Coordinator's office in your academic department or email gradinfo@uga.edu.
Graduate degree candidates will cross the stage.
Doctoral degree candidates will be hooded on stage by their major professor.
The information submitted through Marching Order will be used during the ceremony on the video boards in Stegeman Coliseum in recognition of the graduates' achievements. Doctoral candidates sit in the doctoral graduate section along with their hooding professor.
Graduates' personalized slides will not be displayed but will instead be available for download on the commencement website for personal use.
The University of Georgia understands that not everyone will be able to attend the ceremony in person. Graduates who are not attending the ceremony will not have their name shown or read during the event. However, they will still be able to create and download the slide for personal use, and they may view the livestream of the ceremony.
In order for a graduate's information to be included in the ceremony, they must remove their FERPA restrictions.

Graduates who submit their information to Marching Order by the deadline of Monday, November 14 will have their information displayed on the video boards. Recognitions will be grouped by degree.
Programs
Digital programs will be available to download for the fall Graduate Commencement ceremony.
The names of students who applied to graduate with a master's or specialist degree in fall 2022 by October 24 will appear in the program. The names of students who applied to graduate with a doctoral degree in fall 2022 and submitted their doctoral Commencement information form in GradStatus by October 24 also will appear in the program. The deadline to submit the doctoral commencement information form was October 14.
If you would like to receive a printed copy of the full 2022 fall Graduate Commencement program, please fill out this form by January 16, 2023. Limit is two copies per graduate.
A summary program featuring the order of events will be handed out at the ceremony.
In order to appear in the program, candidates for degrees must remove their FERPA restrictions when applying for graduation.
Photos
Photos from the Graduate Commencement ceremony are available through GradImages.
Diploma Frames and UGA Merchandise
UGA merchandise, including diploma frames, can be purchased from the University of Georgia Bookstore located next to Sanford Stadium, the Tate Student Center, and the Zell B. Miller Learning Center.
UGA Alumni Grad Gift
Graduating students who update their mailing and email addresses with the UGA Alumni Association will be mailed a gift in the months following the commencement ceremony. Visit alumni.uga.edu/gradupdate to claim your gift before January 6, 2023.
For items believed lost at Stegeman Coliseum, please contact the University of Georgia Police Department at detectives@police.uga.edu.
First Aid and ambulance services will be on site to assist with emergency needs. First Aid is located behind Section L in the Stegeman Coliseum concourse.
Please follow the Clear Bag Policy.
On-site wheelchairs are NOT available. Guests with difficulty walking are strongly encouraged to bring their own wheelchair.
Graduates should leave purses, coats, and other belongings with family members.
Remain standing in front of your seat during the entire procession of the Platform Party. Do not stand in the aisles.
In advance of the ceremony, graduates should pick a place to meet family and friends once the ceremony is completed.
Please be respectful of those around you and the fact that this is a formal academic ceremony. Beach balls, air horns, and other similar distractions may be confiscated.
Alcoholic beverages are not permitted at any UGA Commencement ceremony.
Permitted/Prohibited Items
Security has the right to inspect any item at any time for the purpose of safety.
Prohibited items must be returned to cars or disposed of before entering and will not be accepted by employees nor stored at the gates.
The CLEAR BAG POLICY is in effect for Commencement. Please follow the guidelines below.
Permitted Items
Bags that are clear plastic, vinyl, or PVC and do not exceed 12"x6"x12".
One-gallon clear plastic freezer bags.
Small clutch bags, with or without a handle or strap, that do not exceed 4.5" x 6.5".
Bags that contain necessary medical items, which must be inspected and approved at either gate 2 or gate 6.
Food; items must fit inside the permitted-sized bag
Water, in sealed plastic bottles; must fit inside the permitted-sized bag
Umbrellas
Cameras and video recorders (Clear Bag Policy applies to camera bags)
Strollers (except for in the seating areas)
Prohibited Items
For the safety, security, and experience of all guests, the following items are prohibited:
Backpacks and bags that do not follow clear bag specifications.
Wrapped gifts or packages wherein the contents are not visible
Alcohol
Glass and aluminum containers
UGA is a tobacco-free campus.
Large items, such as banners and posters, or amplification equipment, such as bullhorns or megaphones
Stegeman Coliseum is an indoor arena. In case of inclement (severe) weather affecting UGA's Graduate Commencement ceremony a notice will be placed on the University's homepage.
Parking for the Graduate Commencement ceremony is free and available on a first-come, first-served basis. Suggested parking areas include South Campus Deck (S11), Carlton Street Deck (S15), and Foley Field Lot (S14).
McPhaul Lot (S10) and Coverdell Lot (S16) are reserved for designated participants by permit only.
For disability parking, see disability access.
For additional parking questions, please contact Parking Services at 706‑542‑7275.
Visitors with disability concerns are strongly encouraged to arrive early to Stegeman Coliseum. Doors open two hours prior to the start of the ceremony.
Main entrances to Stegeman Coliseum along Sanford Drive and Carlton Street are wheelchair-accessible.
On-site wheelchairs are NOT available. Guests with difficulty walking are strongly encouraged to bring their own wheelchair. Wheelchairs are commonly available for short-term rental from medical supply stores and some pharmacies.
Disability Parking
Parking for guests with disabilities is available in the Hoke Smith Annex Lot (S12) adjacent to Stegeman Coliseum. The main entrances to Stegeman Coliseum along Sanford Drive and Carlton Street are wheelchair-accessible.
Disability Seating
Seating for guests in wheelchairs is very limited in Stegeman Coliseum. Disability and companion seating is located along the top row of the lower level. Disability seating allows access for one person in a wheelchair and one companion. Additional family members will need to sit separately in general seating. Please plan accordingly.
The Arch
For University of Georgia alumni with mobility impairments who choose to pass through the Arch after graduation, the University will have a temporary platform in place on Saturday, December 17 from 8:00 a.m. to 8:00 p.m.
For related questions, contact Qiana Wilson, director of the Equal Opportunity Office, at (706) 542‑7912 or ugaeoo@uga.edu.
Academic Regalia (Cap & Gown)
Appropriate academic regalia must be worn by graduates in order to participate in the Graduate Commencement ceremony.
Candidates should wear their tassels on the right side prior to their degree being conferred and on the left side afterward. The mortarboard on the cap should be parallel to the ground.
Program-Specific Colors
The color of the velvet on the hoods worn by master's and doctorate candidates are indicative of the academic subject area.
The colors associated with these subject areas are as follows:
| Subject Area | Color |
| --- | --- |
| Agriculture | maize |
| Arts, Letters, Humanities | white |
| Business and Accountancy | drab |
| Education | light blue |
| Engineering | orange |
| Fine Arts and Landscape Architecture | brown |
| Forestry and Natural Resources | russet |
| Family and Consumer Sciences | maroon |
| Journalism and Mass Communication | crimson |
| Law | purple |
| Music | pink |
| Pharmacy | olive green |
| Public Administration | peacock blue |
| Public Health | salmon pink |
| Science | golden yellow |
| Social Work | citron |
| Veterinary Science | gray |
Regalia Orders
Caps, gowns, and hoods may be purchased at the University of Georgia Bookstore. Contact the Bookstore at 706‑542‑3171 or via email for purchasing information. Announcements can be ordered online from Jostens.
Please note: If you order your academic regalia from someone other than the UGA Bookstore, the UGA Bookstore will not be able to assist you with missing or replacement items.
Diplomas are mailed six to eight weeks after the official graduation date.
Please see the Registrar's Office website for complete information regarding applying to graduate and diplomas.