As the birthplace of public higher education, the University of Georgia has fostered a tradition of academic excellence, intellectual inquiry, and service to others since 1785. For our graduates, Commencement is a beginning, the start of the next chapter in their lives.
Whether you're participating in the undergraduate Commencement ceremony or supporting your graduate, this information will help you prepare for and navigate graduation day.
Ceremony Start Time:
9:30 a.m.
Gates Open:
8:00 a.m.
Graduates should enter from the Carlton Street side of Stegeman Coliseum and enter through the doors closest to the cross-walk near the Science Learning Center.
Tickets are required for all guests at the fall Undergraduate Commencement Ceremony.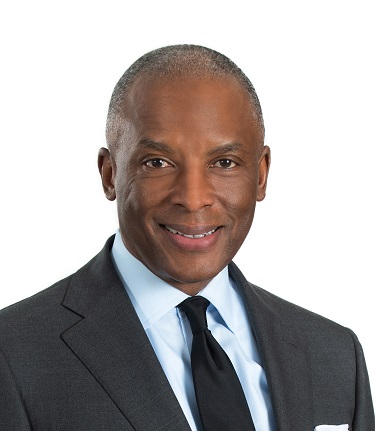 Chris Womack was named chairman, president and CEO of Georgia Power in 2021. He leads Georgia Power in serving its 2.6 million customers across the state. The company is the largest subsidiary of Southern Company, one of the nation's leading energy providers.
Prior to his current role, he served as executive vice president and president of external affairs for Southern Company where he led overall external positioning and branding efforts including the company's public policy strategies and oversaw the company's governmental and regulatory affairs, corporate communication initiatives and other external and strategic business engagements.
A native of Greenville, Alabama, Womack joined Southern Company in 1988 and has held several leadership positions within Southern Company and its subsidiaries. He has served as executive vice president of external affairs at Georgia Power and senior vice president and senior production officer of Southern Company Generation, where he was responsible for coal, gas, and hydro generation for Georgia Power and Savannah Electric. Womack also served as senior vice president of human resources and chief people officer at Southern Company, as well as senior vice president of public relations and corporate services at Alabama Power.
Prior to joining Southern Company, Womack worked on Capitol Hill for the U.S. House of Representatives in Washington, D.C. He served as a legislative aide for former Congressman Leon E. Panetta and as staff director for the Subcommittee on Personnel and Police for the Committee on House Administration.
Womack is a member of the board of directors of Essential Utilities, Inc. and Invesco Ltd. He currently chairs the board of the East Lake Foundation, is on the Georgia Ports Authority board, is on the national board of The First Tee, serves on the Georgia Historical Society Board of Curators, and is the chair of the board for the Alliance to Save Energy. Womack has chaired the Atlanta Convention and Visitors Bureau board and the Atlanta Sports Council. He has received numerous honors, awards and recognitions.
He holds a bachelor's degree from Western Michigan University and a master's degree from The American University. He completed the Stanford Executive Program in 2001.
Ticket registration is closed.
Tickets are required for guests of the Fall Undergraduate Commencement ceremony.
Additional guest tickets will be allocated on a first-come, first-served basis based upon availability after registration closes on November 18. Graduates will be given the option to mark whether they are interested in an additional one or two tickets. Additional guest tickets cannot be guaranteedand will be sent after registration closes for all graduates if availability allows.
Please note tickets are digital and must be transferred to graduates' guests. See transfer instructions here.
Questions regarding eligibility for graduation: please contact the Office of the Registrar at reghelp@uga.edu.
Questions regarding digital tickets: Please call UGA Ticket Office at 706-542-1231.
FAQs regarding digital tickets
Plans changed and don't need all your tickets? Return by December 9 so other graduates may use them!
Graduates can return commencement tickets via their online account at www.georgiadogs.com/myaccount. In order to return a Commencement guest ticket, login with the email address and password or the student 81 number used at the time of registration. Then navigate to the 'My Account' page, click 'Return' beneath the 'My Tickets' menu option, select the Commencement event to return, and confirm selection.

Graduates have until 12:00 p.m. (Noon) on December 9th to return tickets.
Once a Commencement guest ticket is donated, students cannot receive another ticket or have a returned ticket reallocated to them.
There will be no processional for the fall Undergraduate Commencement ceremony. All undergraduate candidates should arrive no later than 8:45 a.m. and proceed directly to the floor of Stegeman Coliseum. Any graduates arriving later than this time are not guaranteed to be seated on the floor and/or with their school or college. Marshals will assist students in finding their correct section. Graduates should enter from the Carlton Street side of Stegeman Coliseum and enter through the doors closest to the cross-walk near the Science Learning Center.
Graduates will be seated by their school or college.
Seating charts will be available one week prior to Commencement.
In addition to watching the ceremony in person, the fall Undergraduate Commencement ceremony will be broadcast live on the Commencement homepage starting at 9:25 a.m.
Undergraduates who apply to graduate for fall semester 2022 will be allowed to participate in the fall Undergraduate Commencement ceremony. Only those undergraduates who applied prior to the October 24 graduation deadline will have their names printed in the fall Undergraduate Commencement program.
For general information regarding graduation requirements, please consult the UGA Bulletin. To ensure that all the requirements for graduation have been met, students should check with their school or college. Students should check their progress via DegreeWorks. All undergraduates must apply to graduate for the semester in which they will take their last course(s) toward their graduation requirements using the graduation application in Athena.
Undergraduate degree candidates will rise with their school or college when degrees are conferred.
Degree candidates earning Latin honors (i.e., cum laude, magna cum lade, summa cum laude) will be recognized during the ceremony. Degree candidates who meet the following GPA criteria and who do not have a FERPA restriction will be noted in the Undergraduate Commencement program. Latin honors distinctions effective for fall 2022 undergraduates are found below:
| Latin Honors Distinction | GPA Requirement |
| --- | --- |
| Cum Laude | 3.60–3.74 |
| Magna Cum Laude | 3.75–3.89 |
| Summa Cum Laude | 3.90–4.00 |
First Honor Graduates have maintained a perfect 4.0 cumulative grade point average on all work attempted at the University of Georgia as well as all college-level transfer work attempted prior to or following enrollment at the University of Georgia. These students are celebrated for their high standards of academic excellence and their outstanding achievements. Their regalia includes a fourragère, a braided cord worn on the shoulder.
For the purposes of the Commencement program, Latin honors recognition is based on the student's overall undergraduate GPA going into the student's last semester. Final Latin honors will be determined following the conclusion of the student's last semester.
Programs
Digital programs will be available to download for the fall Undergraduate Commencement Ceremony.
The program will contain the names of those students who applied for fall 2022 graduation by the October 24 deadline and who did not have a FERPA restriction.
If you would like to receive a printed copy of the full 2022 Fall Undergraduate Commencement program, please fill out this form by January 16, 2023. The limit is two copies per graduate.
A summary program featuring the order of events will be handed out at the ceremony.
In order to appear in the program, candidates for degrees must remove their FERPA restrictions.
Diploma Frames and UGA Merchandise
UGA merchandise, including diploma frames, can be purchased from the University of Georgia Bookstore located next to Sanford Stadium, the Tate Student Center, and the Zell B. Miller Learning Center.
UGA Alumni Grad Gift
Graduating students who update their mailing and email addresses with the UGA Alumni Association will be mailed a gift in the months following the commencement ceremony. Visit alumni.uga.edu/gradupdate to claim your gift before January 6, 2023.
For items believed lost in Stegeman Coliseum, please contact the University of Georgia Police Department at detectives@police.uga.edu.
First Aid and ambulance services will be on-site to assist with emergency needs. First Aid is located behind Section L in the Stegeman Coliseum concourse.
Follow the clear bag policy.
On-site wheelchairs are NOT available. Guests with difficulty walking are strongly encouraged to bring their own wheelchair.
Graduates should leave purses, coats, and other belongings with family members.
Once graduates have found their seat on Stegeman Coliseum floor, please remain in the seat and do not stand in the aisles.
In advance of the ceremony, graduates should pick a place to meet family and friends once the ceremony is completed.
Please be respectful of those around you and the fact that this is a formal academic ceremony. Beach balls, air horns, and other similar distractions may be confiscated.
Alcoholic beverages are not permitted at any UGA Commencement ceremony.
Permitted/Prohibited Items
Security has the right to inspect any item at any time for the purpose of safety.
Prohibited items must be returned to cars or disposed of before entering Stegeman Coliseum and will not be accepted by employees nor stored at the gates.
The CLEAR BAG POLICY is in effect for fall Commencement. Please follow the guidelines below.
Permitted Items
Bags that are clear plastic, vinyl, or PVC and do not exceed 12"x6"x12".
One-gallon clear plastic freezer bags.
Small clutch bags, with or without a handle or strap, that do not exceed 4.5" x 6.5".
Bags that contain necessary medical items, which must be inspected and approved at a designated gate.
Food; items must fit inside the permitted-sized bag
Beverages, including water, in sealed plastic bottles; must fit inside the permitted-sized bag
Umbrellas
Cameras and video recorders (Clear Bag Policy applies to camera bags)
Strollers
Prohibited Items
For the safety, security, and experience of all guests, the following items are prohibited:
Backpacks.
Wrapped gifts or packages wherein the contents are not visible.
Alcohol.
Glass and aluminum containers.
Tobacco: UGA is a tobacco-free campus.
Large items, such as balloons, banners and posters, or amplification equipment, such as bullhorns or megaphones
Stegeman Coliseum is an indoor arena. In case of inclement (severe) weather affecting UGA's Undergraduate Commencement ceremony, a notice will be place on the University's homepage.
Parking for the Undergraduate Commencement ceremony is free and available on a first-come, first-served basis. Suggested parking areas include South Campus Deck (S11), Carlton Street Deck (S15) and Foley Field Lot (S14).
McPhaul Lot (S10) and Coverdell Lot (S16) are reserved for designated participants by permit only.
For disability parking, see disability access.
For additional parking questions, please contact Parking Services at 706‑542‑7275.
Visitors with disability concerns are strongly encouraged to arrive early to Stegeman Coliseum. Doors open 90 minutes prior to the start of the ceremony.
Main entrances to Stegeman Coliseum along Sanford Drive and Carlton Street are wheelchair-accessible.
On-site wheelchairs are NOT available. Guests with difficulty walking are strongly encouraged to bring their own wheelchair. Wheelchairs are commonly available for short-term rental from medical supply stores and some pharmacies.
Disability Parking and Transportation
Parking for guests with disabilities is available in the Hoke Smith Annex Lot (S12) adjacent to Stegeman Coliseum. The main entrances to Stegeman Coliseum along Sanford Drive and Carlton Street are wheelchair-accessible.
Disability Seating
Seating for guests in wheelchairs is very limited in Stegeman Coliseum. Disability and companion seating is located along the top row of the lower level. Disability seating allows access for one person in a wheelchair and one companion. Additional family members will need to sit separately in general seating. Please plan accordingly.
The Arch
For University of Georgia alumni with mobility impairments who choose to pass through the Arch after graduation, the University will have a temporary platform in place on Saturday, December 17 from 8:00 a.m. to 8:00 p.m.
For related questions, contact Qiana Wilson, director of the Equal Opportunity Office, at 706-542‑7912 or ugaeoo@uga.edu.
Academic Regalia (Cap & Gown)
Appropriate academic regalia must be worn by graduates in order to participate in the Commencement ceremony.
Candidates should wear their tassels on the right side prior to their degree being conferred and on the left side afterward. The mortarboard on the cap should be parallel to the ground.
Program-Specific Colors
With the exception of the honors tassels, the color of tassels as well as the color of the velvet on the hoods worn by master's and doctorate candidates are indicative of the academic subject area.
The colors associated with these subject areas are as follows:
| Subject Area | Color |
| --- | --- |
| Agriculture | maize |
| Arts, Letters, Humanities | white |
| Business and Accountancy | drab |
| Education | light blue |
| Engineering | orange |
| Fine Arts and Landscape Architecture | brown |
| Forestry and Natural Resources | russet |
| Family and Consumer Sciences | maroon |
| Journalism and Mass Communication | crimson |
| Law | purple |
| Music | pink |
| Pharmacy | olive green |
| Public Administration | peacock blue |
| Public Health | salmon pink |
| Science | golden yellow |
| Social Work | citron |
| Veterinary Science | gray |
Honors Tassels
Review complete information regarding respective standards for honors graduation.
Undergraduate students who anticipate graduating with honors may wear an honors tassel:
| Honors Designation | Tassel Color |
| --- | --- |
| Summa Cum Laude | Red, Silver and Black |
| Magna Cum Laude | Red and Silver |
| Cum Laude | Red and Black |
Regalia Orders
Caps, gowns and hoods may be purchased at the University of Georgia Bookstore. Contact the Bookstore at 706-542-3171 or via email for purchasing information. Announcements can be ordered online from Jostens.
Please note: If you order your academic regalia from someone other than the UGA Bookstore, the UGA Bookstore will not be able to assist you with missing or replacement items.
Diplomas are mailed six to eight weeks after the official graduation date.
Please see the Registrar's Office website for complete information regarding applying to graduate and diplomas.